ผมดีใจที่ได้เห็นนักกีฬาผู้หญิงไทยมากมายที่เข้ามาเล่นกีฬาอย่างจริงจัง และทำผลงานออกมาได้อย่างดีเยี่ยม โภชนาการนั้นเป็นเรื่องที่มีความสำคัญมาก เพื่อให้มั่นใจว่านักกีฬาแต่ละคนจะมีพลังงานที่เพียงพอจนจบการแข่งขัน ความสำคัญของโภชนาการไม่เพียงเฉพาะสำหรับวันแข่งเท่านั้น แต่การดูแลโภชนการต้องทำอย่างสม่ำเสมอและทำให้เป็นนิสัย และคุณทราบหรือไม่ว่านักกีฬาหญิงกับชายนั้นมีความต้องการพลังงานและโภชนาการที่แตกต่างกัน
ว่าด้วยเรื่องของปริมาณแคลอรี่
การบริโภคปริมาณแคลอรี่ที่เพียงพอนั้นทำให้ผู้หญิงสุขภาพดีและมีความกระฉับกระเฉง แต่แคลอรี่เหล่านี้มักจะถูกพวกเธอปฏิเสธเมื่อถึงเวลาที่ต้องการที่จะลดน้ำหนัก ผู้หญิงโดยทั่วไปแล้วจะต้องการปริมาณแคลอรี่น้อยกว่าผู้ชายในการรักษาระดับความสามารถทางกีฬา การได้รับแคลอรี่ที่ไม่เพียงพอในแต่ละวัน หรือการไม่เติมพลังงานหลังจากออกกำลังกายหนักๆ หรือยาวๆ จะส่งผลต่อการขาดพลังงานของร่างกายซี่งจะส่งผลกระทบต่อสุขภาพ การขาดแคลนพลังงานของผู้หญิงนั้นจะไปส่งผลต่อการหลั่งฮอร์โมนจากต่อมใต้สมอง ซึ่งส่งผลโดยตรงต่อระยะเวลาการไข่ตกและความสามารถในการเก็บกักเกลือแร่ต่างๆ ที่เสริมความแข็งแรงของกระดูก การควบคุมน้ำหนักที่ถูกต้องคือการสร้างความสมดุลย์ของปริมาณแคลอรี่ที่รับประทานกับกิจกรรมที่ใช้พลังงานเหล่านั้นอย่างพอดี
แล้วแคลอรี่แบบไหนถึงจะดีกับสุขภาพสำหรับนักกีฬาผู้หญิง
อาหารหลัก 3 หมู่ โปรตีน คาร์โบไฮเดรต และไขมัน เป็นอาหารหลักสำคัญพื้นฐานที่ส่งผลต่อระบบภูมิคุ้มกันและการฟื้นฟูของร่างกาย หากคุณต้องการที่จะลดน้ำหนัก พยายามรักษาสมดุลย์ของอาหาร 3 หมู่ไว้ และค่อยๆ ลดปริมาณการกินในแต่ละมื้อให้ลดลงในเวลาที่เหมาะสม
คาร์โบไฮเดรต เป็นแหล่งพลังงานหลักของกระบวนการเผาผลาญพลังงาน แต่สำหรับผู้หญิงนั้นคาร์โบไฮเดรตมักจะถูกตีความไปในทางที่ไม่ค่อยจะดีเท่าไหร่นัก ทั้งๆ ที่มันเป็นแหล่งพลังงานสำคัญที่สะสมในรูปของไกลโคเจนในกล้ามเนื้อที่จะช่วยให้เรามีพลังงานในการออกกำลัง และช่วยให้สามารถฝึกซ้อมได้หนักมากขึ้นซึ่งช่วยพัฒนาประสิทธิภาพทางกีฬาโดยรวม โดยทั่วไปสัดส่วนแคลอรี่ที่ได้จากการรับประทานคาร์โบไฮเดรตควรเป็น 50% พลังงานที่ร่างกายต้องการในแต่ละวัน ไม่เพียงแต่เป็นพลังงานให้กับกล้ามเนื้อแล้ว ยังให้พลังงานกับสมอง ทำให้คุณตื่นตัวและป้องกันการบาดเจ็บได้อีกด้วย
โปรตีน ผลวิจัยพบว่านักกีฬาสาย endurance และกีฬาที่ต้องในกำลังมากนั้นต้องการโปรตีนมาก แต่อย่างไรก็ตามก็มีผลวิจัยที่พบว่านักกีฬาผู้หญิงนั้นไม่ได้ต้องการโปรตีนมากเทียบเท่ากับผู้ชายเพื่อร่างกายมีอัตราการสันดาปตำ่ขณะออกกำลัง แต่โปรตีนก็ยังคงเป็นบทบาทสำคัญสำหรับการฟื้นฟูและการสร้างกล้ามเนื้อสำหรับผู้หญิงอยู่ดี
ไขมัน ผู้หญิงนั้นมีความสามารถในการใช้พและการถ่ายเทของพลังงานจากไขมันได้ดีกว่าผู้ชายในขณะออกกำลังกายแบบ endurance นั่นก็เป็นเพราะผู้หญิงมีอัตราการสันดาปไขมันได้และมีการเก็บกักไขมันดีกว่าผู้ชาย ทำให้ผู้หญิงนั้นเหมาะที่จะทำการออกกำลังแบบระยะทางยาวๆ มากกว่า แต่ทั้งนี้ผู้หญิงก็ไม่ควรที่จะหลีกเลี่ยงการกินไขมันและควรบริโภคไม่ต่ำว่า 20% ของพลังงานที่ร่างกายต้องการต่อวันจากไขมัน โดยการกินอาหารประเภท ถั่ว น้ำมัน ปลา และเนื้อสัตว์ ก็น่าจะเพียงพอแล้ว นอกจากนี้ยังมีหลักฐานที่ระบุว่าผู้หญิงที่ทานปริมาณไขมันที่เพิ่มขึ้นเล็กน้อยในมื้ออาหารฟื้นฟูหลังออกกำลังจะช่วยเติมพลังงานคืนกลับมาได้ดียิ่งขึ้น
ธาตุเหล็ก เป็นอีกหนึ่งตัวที่นักกีฬาผู้หญิงนั้นมักจะขาดแคลน และทำให้เป็นโลหิตจาง ธาตุเหล็กเป็นหัวใจสำคัญของการนำพาออกซิเจนและในการสร้างพลังงาน การขาดธาตุเหล้กนั้นนำไปสู่การทำงานบกพร่องของกล้ามเนื้อและลดประสิทธิภาพทางกีฬา โดยเฉพาะในช่วงที่มีประจำเดือนนั้นผู้หญิงจะมีการสูญเสียธาตุเหล็กอย่างมากและมากยิ่งขึ้นไปอีกสำหรับกลุ่มที่เป็นมังสวิรัติ นักกีฬาต้องการการบริโภคธาตุเหล็กมากกว่าคนธรรมดาทั่วไปถึง 70% เลยทีเดียว วิธีที่ง่ายที่สุดในการเพิ่มธาตุเหล็กคือ ทานอาหารประเภทเนื้อแดง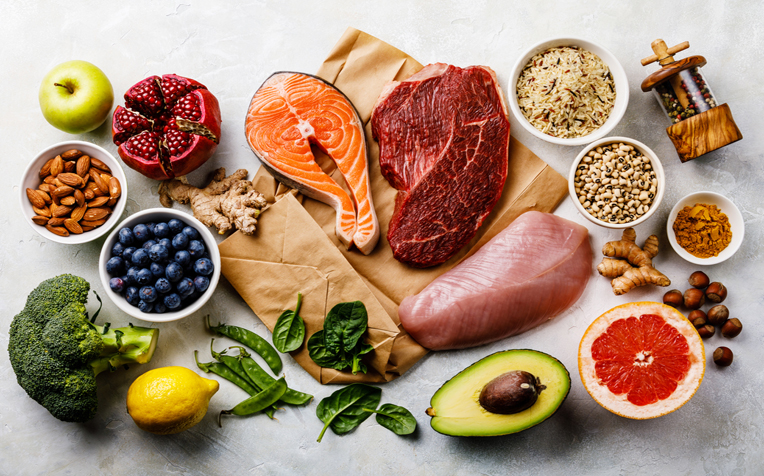 วิตามิน บี เช่นเดียวกันกับธาตุเหล็ก การขาดแคลนวิตามิน บี เช่น บี 12 และโฟเลททำให้เกิดภาวะโลหิตจางได้เช่นเดียวกัน ซึ่งจะนำไปสูงการเหนื่อยล้าอย่างรุนแรง และยังส่งผลกระทบต่อขนาดของเซลล์เม็ดเลือดอีกด้วย แหล่งที่อุดมไปด้วยวิตามิน บี คือ ผลิตภัณฑ์ที่ได้จากสัตว์ เช่น เนื้อแดง หรือนม วิตามิน บี ยังสามารถรวมกับวิตามินและเกลือแร่อื่นเพื่อเป็นอาหารสำหรับการฟื้นฟูได้เป็นอย่างดี เช่น ผสมกล้วย อัลมอนด์ และช็อคโกแลตปั่นรวมกัน ทานหลังออกกำลังกาย
แคลเซียม นักกีฬาผู้หญิงที่มีการลดการกินอาหารเพิ่มพลังงานนั้นมีความเสี่ยงต่อการขาดแคลเซียม ซึ่งเป็นแร่ธาตุสำคัญสำหรับการเติบโตและการพัฒนาของกระดูก โดยเฉพาะผู้หญิงน้ันมีความเสี่ยงต่อการเป็นโรคกระดูกเปราะ อย่างไรก็ตาม เราต้องคำจึงว่าแคลเซียมนั้นต้องการวิตามิน ดี ในการดูดซึมด้วย วิตามิน ดี นั้นมีพร้อมอยู่แล้วจากการได้รับแสงแดด กินอาหารที่มีส่วนผสมของนม 3-4 หน่วยบริโภคต่อวัน เช่น นมหนึ่งแก้ว โยเกิร์ต หรือชีสก้อนเล็กๆ เพื่อเป็นการให้แน่ใจว่าร่างกายได้รับแคลเซียมเพียงพอต่อวัน ถ้าคุณเป็นพวกที่ไม่ย่อยแลคโตส คุณควรจะเลือกทานอินทผาลัมที่มีสีเข้ม แซลมอนกระป๋อง และเมล็ดอัลมอนด์ ที่เป็นแหล่งชั้นดีของวิตามิน ดี และ แคลเซียม ที่สามารถใช้เป็นอาหารมื้อหลัก อาหารทานเล่น หรือทำเป็นสมูทตี้
โภชนาการที่ดูเหมือนจะเป็นเรื่องพื้นฐานแต่มักจะมีการวางแผนกันอย่างผิดๆ มีกูรูอินเตอร์เน็ตมากมายออกแบบโภชนาการที่ไม่มีผลการวิจัยที่น่าเชื่อถือรองรับ ทำให้นักกีฬาหลายคนล้มเหลวในการฝึกซ้อมและผิดหวังในการแข่งขัน การมีโภชนาการที่ดีไม่จำเป็นต้องมีความซับซ้อนขนาดนั้น ทำได้ด้วยอาหารพื้นฐานที่หาได้ง่ายตามร้านสะดวกซื้อ ที่คุณสามารถเลือกเมนูที่เหมาะกับตัวเองได้อย่างหลากหลาย และมีความปลอดภัย
ขอบคุณผลิตภัณฑ์อาหาร ​CP Sustainability
ติดต่อเรา
---
The reason that lady athletes need different Nutrition
I'm glad that I saw many lady athletes doing more sports and perform very well in the race. Nutrition is very important to make sure they have enough energy through the race. Nutrition is not a-race-day-only job, you need to consider the right nutrition regularly. Do you have any idea that lady athletes and men athletes require different nutrition and energy?
Calories
Consuming the right amount of calories is huge step towards ensuring women stay healthy and energized in general but it's often over looked in order to lose weight. Typically women need less calories than men but enough to fuel performance. Not eating enough on a day-to day basis or not eating after hard training sessions or endurance rides can lead to low energy availability that can affect health. For women, low energy availability impacts hormone secretion from the pituitary gland, which directly impacts regulation of ovulation and the ability to absorb minerals to keep bones healthy. We must also keep in mind that consuming too many calories, if not used, runs the risk of weight gain, it's a fine balance.
Macronutrients
To optimize health and cycling performance it is important to consume 3 macronutrients – Carbohydrate, Protein, and Fat. Eliminating any of these food groups can have negative effects on immune function, recovery and also increase risk of injury. If certain healthy weight goals need to be achieved it is better to do it through the combination of smaller portions and the timing of your food consumption, as opposed to eliminating any of these whole food groups.
Carbohydrates: This is the primary macronutrient for energy metabolism. Although for women, carbohydrates seem to come with a bit of a bad pubicity, it is actually crucial if you want to get the most out of your training and rides. Carbohydrates are essential in providing your body with the muscle glycogen needed to sustain exercise, and allow you to train harder and therefore elicit better training adaptations than training in a depleted state. Generally, carbohydrate intake should be up to 50% of the calories calculated in your total energy requirement, carbohydrates not only fuel our muscles but also our brains, staying alert can be pivotal in some sports to help avoid injury.
Protein: Research has found an elevated need for protein in most endurance and power athletes. However, research has also shown that female athletes don't actually need as much protein as men due to lower oxidation rates during exercise. Saying that, protein is still essential to promote recovery and muscle adaptation and still remains an important part of the female athletes diet.
Fat: Women have a greater capacity to use and transport fats than men during endurance exercise. It is the combination of high oxidation rates and higher fat stores that actually make women very suited to long distance events. With this in mind it is essential that women do not consume less than 20% of their total energy requirements from fat. Having 25-30% from healthy sources such as nuts, oil, fish and meat would be optimal. There is even evidence that supports women having a slightly higher fat content in their recovery meals to replenish the energy stores they have used.
Iron: This is one of the most common deficiencies amongst female athletes, anaemia. Iron is key to oxygen carrying and energy production. Iron deficiencies can lead to impaired muscle function and a reduction in performance. Women are most at risk due to their menstrual cycle, especially those who are vegetarian. It is thought endurance athletes need 70% higher intake than the general population (18 mg per day). The easiest way to obtain iron is through the consumption of red meat.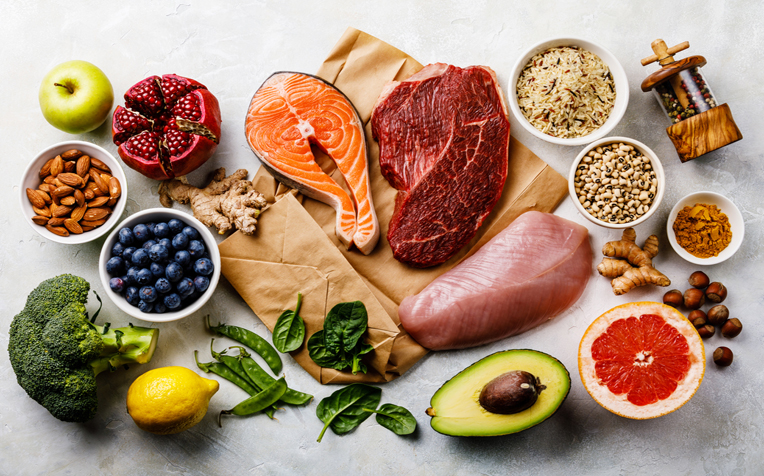 B Vitamins: Similar to iron, lack of B Vitamins such as B12 and folate can cause anaemia, which in turn means an athlete may suffer from severe fatigue, it can also affect the size of red blood cells. Good sources of B Vitamins are animal derived foods such as milk and red meat. B vitamins can be mixed in a high vitamin or mineral blend such as a recovery drink such as a banana almond chocolate smoothie, adding even more benefits to having one post training.
Calcium: Female cyclists who reduce their total energy intake are more at risk of calcium deficiencies. Calcium is a key mineral essential for growth and the development and maintenance of bones. Women are particularly at risk of low bone density, however, one needs to consider that Calcium needs Vitamin D for it to be absorbed; Vitamin D is most readily obtained from sunlight. Having 3-4 servings of dairy products per day such as a glass of milk, yogurt, or a small block of cheese is a great way to ensure you obtain enough calcium in your diet. If you're lactose intolerant like myself, I find dark leafy greens, dates, , canned salmon, and almonds are great sources of vitamin D and calcium that I often use in meals, snacks, and smoothies.
Nutrition seems to be a basic fundamental that everyone should know but more often that it was planed badly. There are many internet guru offer weird diet programs without credible scientific research support that can harm you or fail you in the race. Having good nutrition is not that complicated. You can find good food full of nutrition you need in convenience store next door that have variety and safe.
Thank you CP Sustainabiliy ​CP Sustainability
Contact Us